Frida Kahlo had such a tragic artistic life. Her passions reflect her work and the decisions of her superbly passionate heart--for good or ill. Model Johanna Kupecki modeled Frida perfectly for this piece with applied makeup, costume, and hair flowers. We know Kahlo's self-portraits more than any other of her work--her uni-brow and flowers in her hair--but what a complex and sensual woman stricken with great tragic circumstance. In this painting, Johanna dressed as Frida for Halloween, but her ability to "channel" the essence of Frida was striking.
One of her most controversial pieces, (and noted as one of her best), is "The Suicide of Dorothy Hale". This was a commission that was supposed to represent the beauty of Ms. Hale, an amateur starlet. When the painting was delivered, it was considered shocking and repulsive. After reading biographical sketches on both Kahlo and Hale, it is to me quite striking why Kahlo would paint from her soul a vision of Hale's tragic life, especially since Hale was a one time lover of Kahlo's husband--and speculation about her relationship with Kahlo herself.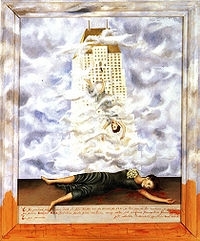 For me, this tragic quality is a deeply profound story found in many artists capable of pushing a vision beyond the acceptable normality of "safe" experience.
Jeff